Association objectives
Archives et Bibliothèques de Belgique studies issues related to the profession of archivist and librarian. Also, the association aims at establishing close and lasting relationships between librarians and archivists. At international level, the association represents Belgium within the ICA (International Council on Archives).
The Journal is the association's medium in which it publishes papers about archival science, library science and related disciplines. Both theoretical issues and technical (i.e. practical) problems such as conservation, selection, restoration, description and accessibility of archival documents or books are discussed. The association of course keeps up with new developments and current tendencies in the field of archives and libraries. However, its Journal may also contain articles about the history and organisation of specific archives creators and libraries, as well as contributions about the history and the richness of particular archival fonds or library collections, and biographical studies related to archivists, librarians, collectors or bibliophiles in general.
Symposium
Into the Contents of Collections
New Ways to open the Resources of Archives and Libraries
December 13, 2019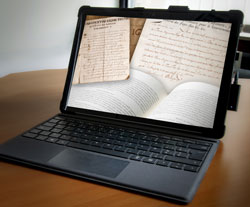 The expectations of archive and library users have significantly changed since the digital revolution. User groups change, expand, and diversify as online access to digital resources increases. Among the major developments are the googlisation of research and the demand for extensive and transparent access to digital content, supported by the open data initiative and the European PSI directive on reuse of public sector information.
How do archives and libraries tackle these expectations? How do they manage between all the constraints and opportunities? Which new ways do they explore to enhance user experience and facilitate access to the contents of their collections?
Some libraries and archives launch ingenious projects in fields as diverse as the development of Linked (Open) Data (LOD) or the organisation of hackathons, creating partnerships to pool innovative skills. Collection catalogues and archive inventories are called up to change. Handwritten text recognition progresses rapidly and makes the contents of documents that only a specialized audience could read now accessible to all.
These are the main topics on which more light will be shed during the colloquium. A kaleidoscope of approaches and experiences will be presented though all will place the user at the heart of their analysis.
Program: download the program

Address: KBR (Entrance : Mont des Arts 28, 1000 Brussels) - Royal Skyroom
Free admission (registration not required)
Contact: abb@kbr.be
Presentations of the speakers can be downloaded below: